Pagoda Resort
& Spa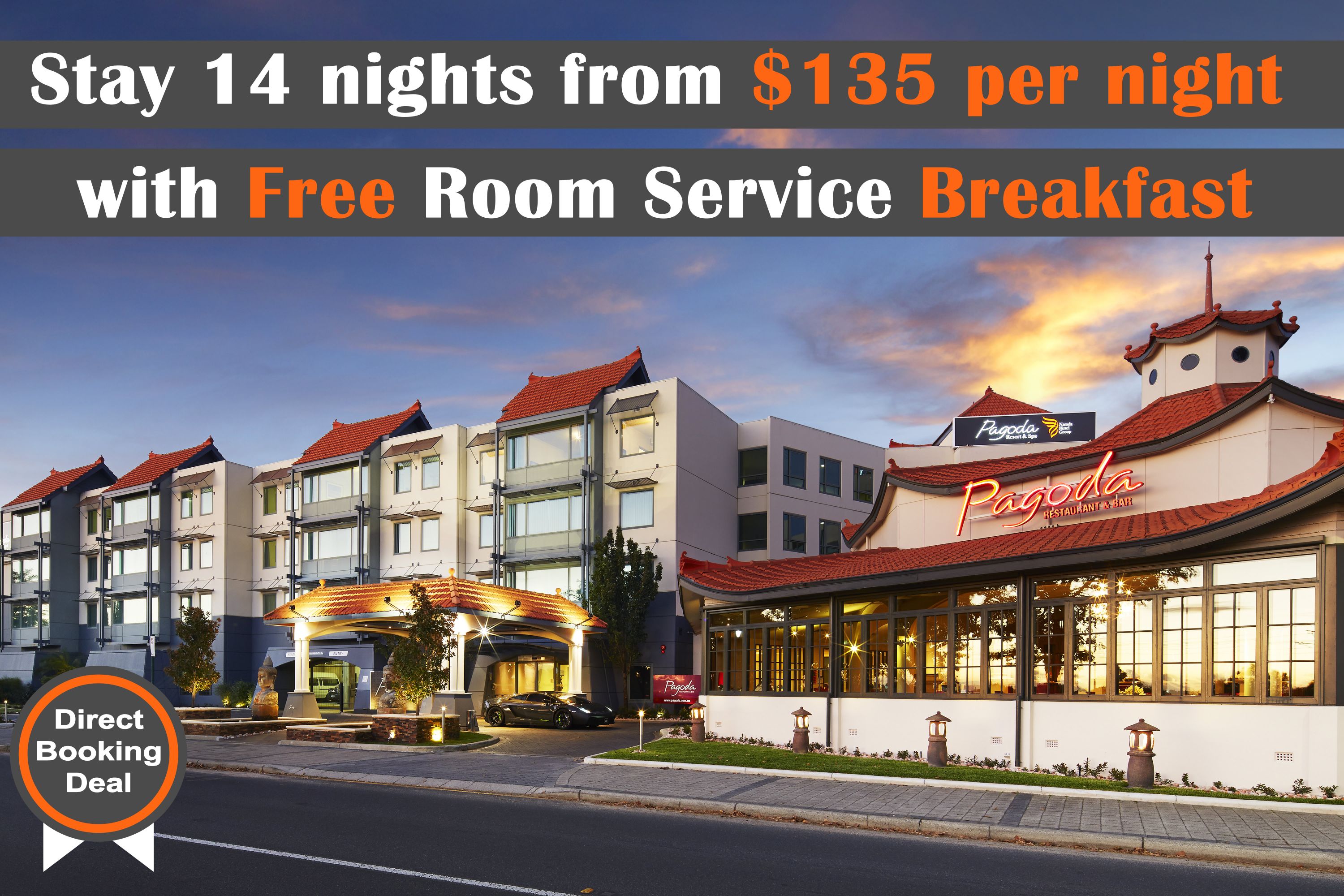 Pagoda Resort & Spa Statement on the Novel Coronavirus (COVID-19)
In compliance with the Department of Health and Australian Government directives in response to COVID-19, the Hotel has changed its operations on the following facilities and service, which are temporarily closed and suspended until further notice.

• Waterwall Restaurant & Bar - Re-opening from Friday, 22 May 2020 for Lunch and Dinner. Visit our dining page for more information.
• Resort Pool
• Gymnasium
• Sauna
• Courtesy Shuttle Service
In light of the new Covid-19 Regulations, certain hotels facilities and services will be impacted however as always, Pagoda's Team is committed to ensuring that the health and safety of our guests and staff remain our priority.
Thank you for your understanding.

Pagoda Resort & Spa
Experience one of Perth's famous historic riverside landmarks, Pagoda Resort & Spa.
Located within the vibrant City of South Perth just minutes from Perth CBD and the Perth Convention & Exhibition Centre.
Superbly positioned overlooking Perth's famous Swan River, Pagoda offers a unique selection of guest rooms, elegant suites and daily serviced self-contained one and two bedroom apartments.
Guests can enjoy our value added complimentary benefits including arrival drinks, WiFi and weekday morning city shuttle service.
Whether travelling for business or leisure the hotel offers a range of guest facilities and services. Relax in the heated outdoor swimming pool and enjoy the fitness centre, sauna, bike hire and easy access to riverside cycle ways and walking paths. The resorts 24 hour reception team will also be delighted to assist you with tour bookings.
Pagoda also features it's own onsite restaurant & bar serving buffet breakfast, a la carte lunch and dinner plus daily high tea. The Waterwall Restaurant & Bar is certain to impress with it's pool view, tropical surroundings and relaxed atmosphere.
If you're planning a conference, product launch, exhibition or simply looking for a reception venue with well-appointed Perth accommodation you will be warmly welcomed at Pagoda Resort & Spa, South Perth's Finest accommodation.
At Pagoda Resort & Spa, we also have a range of gift vouchers for your convenience. A perfect gift for any occasion.